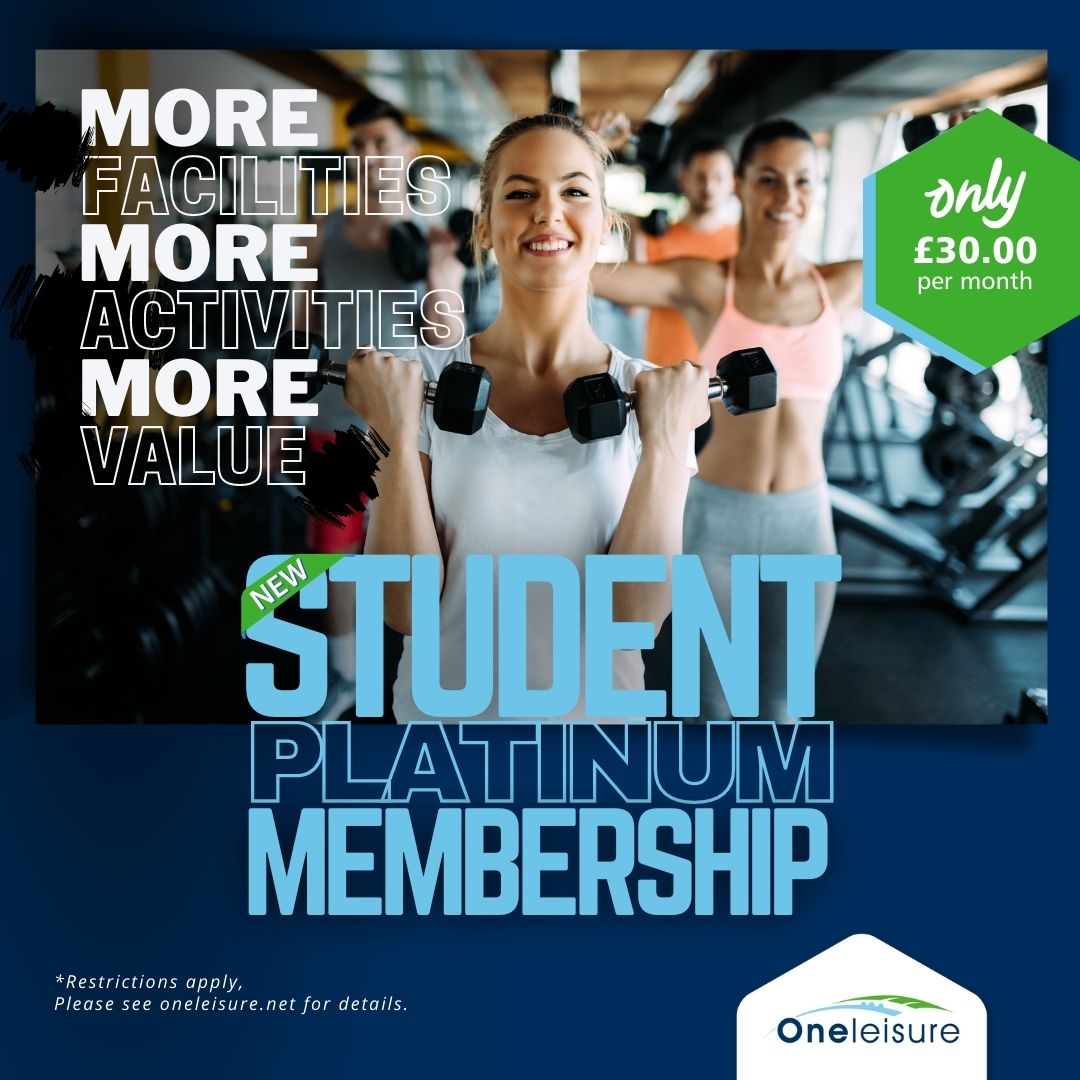 Student Platinum Membership
Join our Student Community
One Leisure has launched their Student Platinum Membership for its leisure facilities to boost academic performance and wellbeing. 
Students between the age of 14 and 17 can now enjoy our Impressions gyms, swimming pools, fitness classes and indoor cycling studios available at all One Leisure centres across Huntingdonshire. Plus, off-peak rackets, and swimming for dependent children*.
In recent years a wealth of research studies has shown that physical activity and student wellbeing is directly linked to academic performance. One Leisure is taking steps to make its leisure facilities more accessible to students by offering a special membership on a monthly basis for £30.
Whether it's working out with friends, family or alone, young people are welcome in our gyms to train, develop their technique and make new friends.
By promoting physical activity it is hoped that it will deliver wider wellbeing and public health benefits for Huntingdonshire's students. Research has shown that physical exercise has a range of wellbeing benefits including boosting self-esteem, mood, sleep quality and energy, and reduces the risk of stress and depression.
---
* Platinum Student Membership is for ages 14 – 17 years.
* Under 16s will need to purchase memberships in centre with a parent or guardian to sign the direct debit form. You will also need to bring proof of age with you. 
* Student members must complete a gym induction.
*All our pools offer an extensive timetable which can work around school and college hours. We welcome swimmers to swim alone from the age of 8, providing they can complete a competency test on arrival to include swimming 25 metres, and treading water for 45 seconds.
* Students will be asked to produce proof of age when they collect their membership card.
* Unfortunately, some of our gym equipment is off-limits to our younger members. In most cases, we just ask you to be sensible and seek advice of either the parental or Fitness Instructor supervisors. No-one under the age of 16 may use the free weights areas.